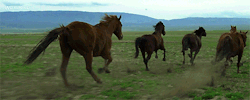 The Extreme Mustang Makeover is an event that was created several years ago to help those mustangs in holding pens get adopted out. Those who compete have around 100 days to tame their untouched mustang for the competition. Taming includes, gentling, saddle breaking, halter breaking, and building trust and a willing partnership.
Both Tommy McCloud and Gavin Huffman competed at the 2018 Extreme Mustang Makeover. This is Tommy's second year, and Gavin's first year of doing EMM.
Tommy is a 9 year old avid horse lover, "I love training mustangs and my other horses. I want to be a preacher and open a homeless shelter that also has a mustang training program. I was born into horses, but we have always loved horses and we have had a connection to them. I have been around horses all my life and I hope that my kids will want to be around them all their life also."
Gavin is also an avid horse and mustang lover. "I got into horses when I was 3 years old. My sister's best friend took lessons and my mom had us start taking lessons. My sisters liked it, but didn't like doing the work. I stuck with it and it kinda went on from there; I just fell in love with the animal."
Gavin and Tommy both have their own reasons for doing the Extreme Mustang Makeover, but both primarily want to help the mustang.
"I did the EMM to save mustangs lives and to help them to get out of holding," Tommy said. "I wanted to show people that mustangs are good and sweet. It also saved my life. I was bullied and Jack, my first mustang, saved me and helped me believe in myself again."
"I chose to do the mustang makeover, because we went and watched last year," Gavin said. "We went because one of my friend's sister does it and we went to check it out to see what it was like. She talked my mom into letting me do it."
The process of gentling a mustang can be a long road, but it is worth it in the end. It takes a lot of patience and hard work.
"I worked my horse each day," Tommy said. "I had to earn Mar;s trust and he earned mine. We worked on all ground work and even made up games. I work with what the horse is good at. Like Jack loves to lay down, work with flags, and guns. And Mars loves platforms and jumping."
"From the very beginning he was really calm," Gavin said. "The first night, I got his halter on him and he was leading. I think it was the next day we had him picking up his feet. Then, we worked on driving and desensitizing and taking him to shows and parades."
The mustangs are randomly picked for the competitors. Pick-up day a very special day for both the competitors and the mustangs.
"Well Jack and Mars was picked for me they were luck of the draw," Tommy explained. "But my new makeover horse, Gypsy, I got to pick her for the makeover in October in Georgia. But at pick up, it is always a very special day because they don't know it yet but that is the first day of them being free and that we are going to become very good friends."
Tommy's first EMM horse, is Jack. Jack will be turning two. Tommy has high hopes for him in the future such as being Tommy's 4-h horse, as well as potentially his mounted shooting horse.
Tommy's second horse, Mars, has already been adopted and is living with his new forever family.
Tommy's future EMM horse, Gypsy, is a one year old filly whom he also has high hopes for. He hasn't decided if he is going to keep her or not, but he knows that no matter where she ends up, she'll make someone an awesome little horse.
Gavin's EMM horse, Comet, is a yearling from Nevada filled to the brim with personality. Gavin says Comet is very calm, and can be lazy, but he does what Gavin asks. He also loves to drink out of water bottles!
Tommy and Mars and Gavin and Comet both competed in Conditioning, Trail, and Freestyle.
"We tried hard and I am very proud of how we did," Tommy said. "I am very proud of everyone; we all tried very hard and we made our mustangs proud. As long as you go out and try your best, it doesn't matter if you win or not. But we got 6th in freestyle and we got 21 out of 30 kids."
"I got 21st for handling and conditioning," Gavin explained. "Then I got 17th for trail and I got 8th in free style and I ended up 12th overall."
Congratulations Tommy and Gavin! A job well done by both!