Popcorn, Chocolate, and Horses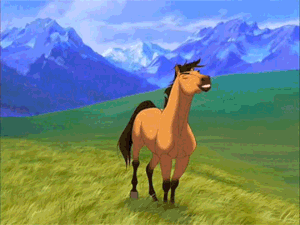 Popcorn, chocolate and horses may seem like the perfect combination to get messy, but I don't mean those three all together at once. (Unless ya want to!) I mean eating popcorn and/or chocolate watching a family favorite- horsey movies!
There are hundreds of horsey movies around the globe, but which ones are the best? Everyone has their own opinion on which movies are rated #1 and which ones are terrible, so this list may not suit everyone's fancy. But hey, it's all in good fun! :)
Number One: Spirit: Stallion of the Cimarron
Hand's down one of the best horse movies out there! Spirit was made in 2002. It is a beautifully animated story about a young mustang stallion figuring out what the world is from birth to falling in love with a paint mare named Rain to learning what "two-legs" are. You will not be disappointed!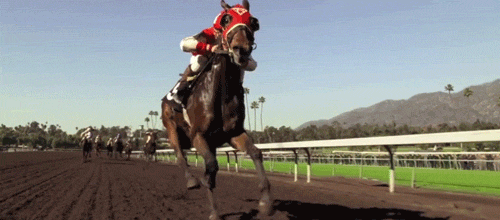 Number Two: Seabiscuit
Ah, all the feels here! The typical underdog story, but based on a true one! The movie, made in 2003, is based on the true story of a thoroughbred stallion with a gimpy leg and short stature. With Red Pollard on board, the duo takes on the triple crown winner, War Admiral, and the rest is history!
Number Three: Black Beauty
One of the oldest, and most beloved horse stories of all time. The 1994 film is based off Anna Sewell's classic, Black Beauty. The story follows Black Beauty from when he was a young foal all the way until he is an older gelding. During this time, he is owned by many people and is treated with both kindness and cruelty. A heart-warming movie for all!
Number Four: Secretariat
"He's moving like a tremendous machine!" Secretariat is based off the true story of the 1973 triple crown winner. Penny Chenery, or Tweedy, inherits the racehorse farm from her father. Determined to not let it tank, Penny places her hopes on the shoulders of "Big Red". The rest is known as a miracle. Secretariat is STILL seen as one of the greatest racehorses that ever lived.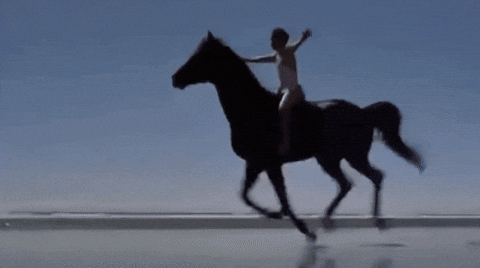 Number Five: The Black Stallion
This 1979 classic is a favorite of many horse lovers around the globe. Based off of a book, this story follows Alec and The Black through their journey. Alec and the Black meet on a cruise ship which then sinks; the pair reaches an island where they soon create an unbreakable bond. Finally, they are rescued and are returned to America. Beautiful scenes, heart pounding racing, and the bond between Alec and The Black make this one of my top five!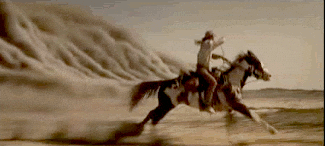 Number Six: Hidalgo
A beloved story of adventure this one is! We follow Hidalgo and Hugo across the ocean into the hardest race on the planet, "Ocean of Fire". Not only is Hidalgo an adventure, but it is a story of identity. The whole family will love this movie with the amount of action, grit, and plot this movie has!
Number Seven: Shergar
This is actually my favorite movie of all time, but I know where it stands in the rankings when it comes to horse movies. Shergar is based on the true story of an Irish racehorse who is horse-napped for ransom from his barn in the middle of the night. In real life, no one knows what actually happened to the bay, but in the movie, the directors created their own happy ending. If you like cheesy, happy-endings, this movie is for you!!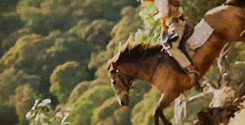 Number Eight: The Man from Snowy River
One of the prettiest films on the market. This 1982 hit has enthralled people around the globe. Jim, the main character, must earn his worth by working in the lowlands. He does just that, and meets a pretty lady along the way. If you like grit, determination, and pretty landscapes, this one's for you!
Number Nine: War Horse
Ah, another great movie! War Horse is based on a short novel by Michael Morpurgo in 1982. Albert and Joey are the center of this lovely film. When Joey is sold to the cavalry to save the farm, Albert swears he will find Joey again and be reunited. The film follows Joey's journey from being an officer's horse to running through no man's land. The movie does a wonderful job of portraying World War One. Be warned there are graphic scenes in this movie, but it is worth it!
Number Ten: The Horse Whisperer
This 1998 film is based off of the novel by Nicholas Evans. Grace, a younger teenager, and Pilgrim, a chestnut gelding, are very close. Grace and her best friend decide to take their horses out for a ride, and an accident, that results in the death of Grace and her horse, ensues. Grace's mother is desperate to find a way to help Grace and Pilgrim heal. The rest of the story revolves around the title of the film. This heart-warming story of love, devotion, and healing is perfect for a rainy day.
Don't forget these classics either: My Friend Flicka, Wild Hearts Can't Be Broken, Pharlap, National Velvet, Racing Stripes, Into the West, The Silver Brumby, Flicka (1,2,3) and Dreamer!